Kingston, Washington, USA
https://www.whitehorsegolf.com/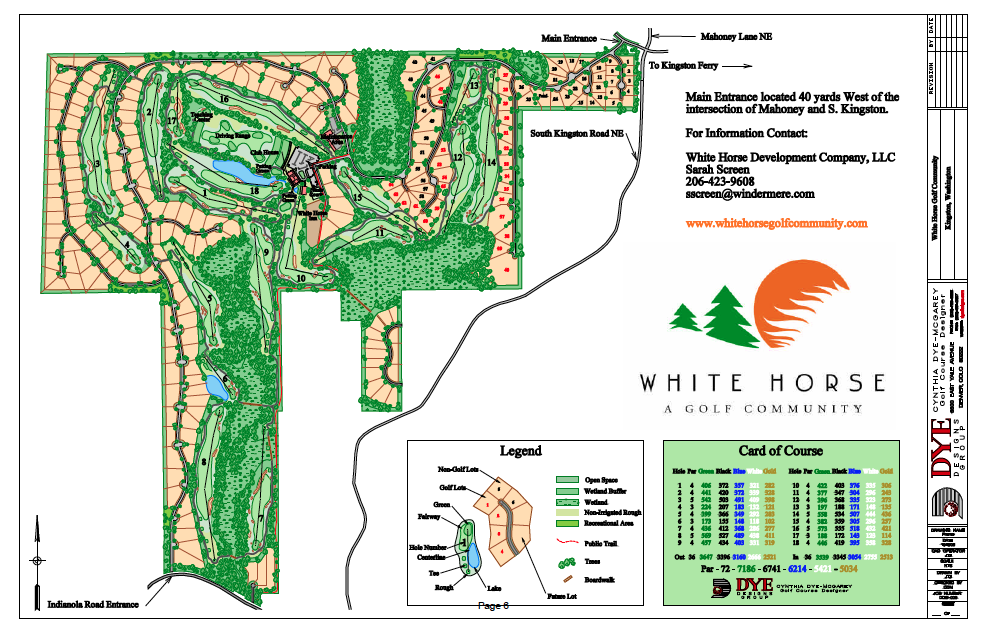 The Dye Designs Group team is the best partner we have ever worked with on any project. They are always available, responsive, enthusiastic, continue to add value to our project, and demonstrate unusual competence in every area of their work. Having the 'Dye' name associated with our golf course has given us valuable attention from local media and is creating a growing sense of excitement among golfers in our market area.

– Mr. Bob Screen, Owner, White Horse Golf Club
When Dye Designs Group was first approached, the developer Bob Screen had already interviewed over a dozen golf course architects and land planners. Cynthia Dye was given the opportunity to show the developer how to improve the golf course routing while creating added value to the planned 235 residential lots. Her concept was submitted. After two weeks of reflection, as she worried to hear Mr.Screen's response, he finally called and simply said, "Wow!" Dye Designs was hired.
The 7,186 yard, par 72 championship golf course at White Horse has five sets of tees to choose from, allowing every golfer to find the length that fits their golf game. The round takes you through 456 acres of old-growth cedar, spruce, fir and hemlock. Golf paths wind alongside 70 acres of preserved wetlands.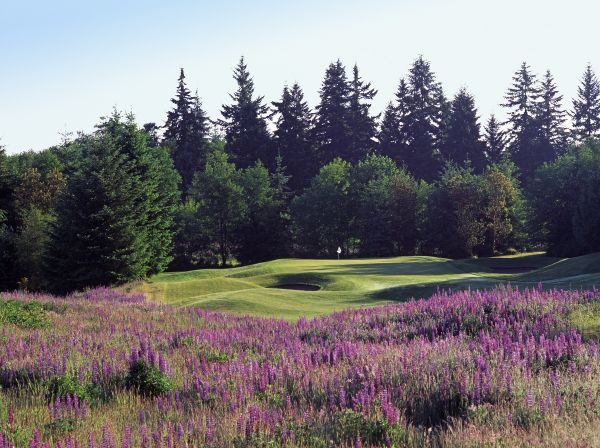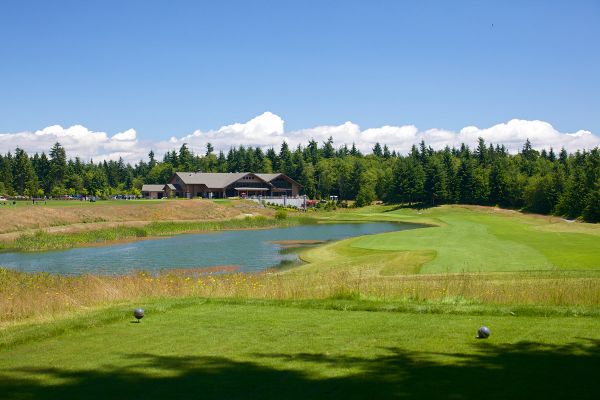 The fairways have been shaped to provide a lot of movement to tie into the natural rolling surrounds. These contours keep the ball movement unpredictable and afford multiple challenges for players. The greens were set up with much more subtle contours providing multiple pin locations on each complex. In comparison to the fairways, the golf greens look deceptively level.
The Master Plan design had a strong emphasis on providing ample practice facilities. A double-ended driving range was designed to provide the flexibility of use for the daily players as well as an area for the teaching pros to coach and provide lessons. The teaching green complex features six target greens and a variety of bunkers. The orientation of the range ensures the sun will always be behind you. It is centrally located and with the finishing holes 16, 17 and 18 as a backdrop.